In this Lapilli, we are going to focus on this year's extremely long summer and interesting adaptation projects around the Med, including a "mosaic forest" that traps heat in France, a series of measures to reduce nutrient pollution in a Spanish lagoon and agriculture as a means to fight desertification in southern Spain. While it's easy to fall into a pessimistic mindset regarding climate change, at Magma, we seek to emphasize hope and that there is still so much that can be done to mitigate and adapt to our changing environment. As always, we welcome your feedback, comments and questions. Happy reading!

A very long heated summer. It isn't your imagination. After a series of increasingly hotter summers, the summer of 2023 has indeed broken new records. According to The New York Times, summers marked by extreme heatwaves are becoming increasingly frequent. But it was the prolonged presence of summer-like temperatures well into September and October that stood out this year. Europe experienced its warmest September and October on record, with particularly warm conditions in Austria, Switzerland and France, as well as for large parts of Italy and Spain. Notably, this past September set a new global record as the warmest one ever recorded (Euronews).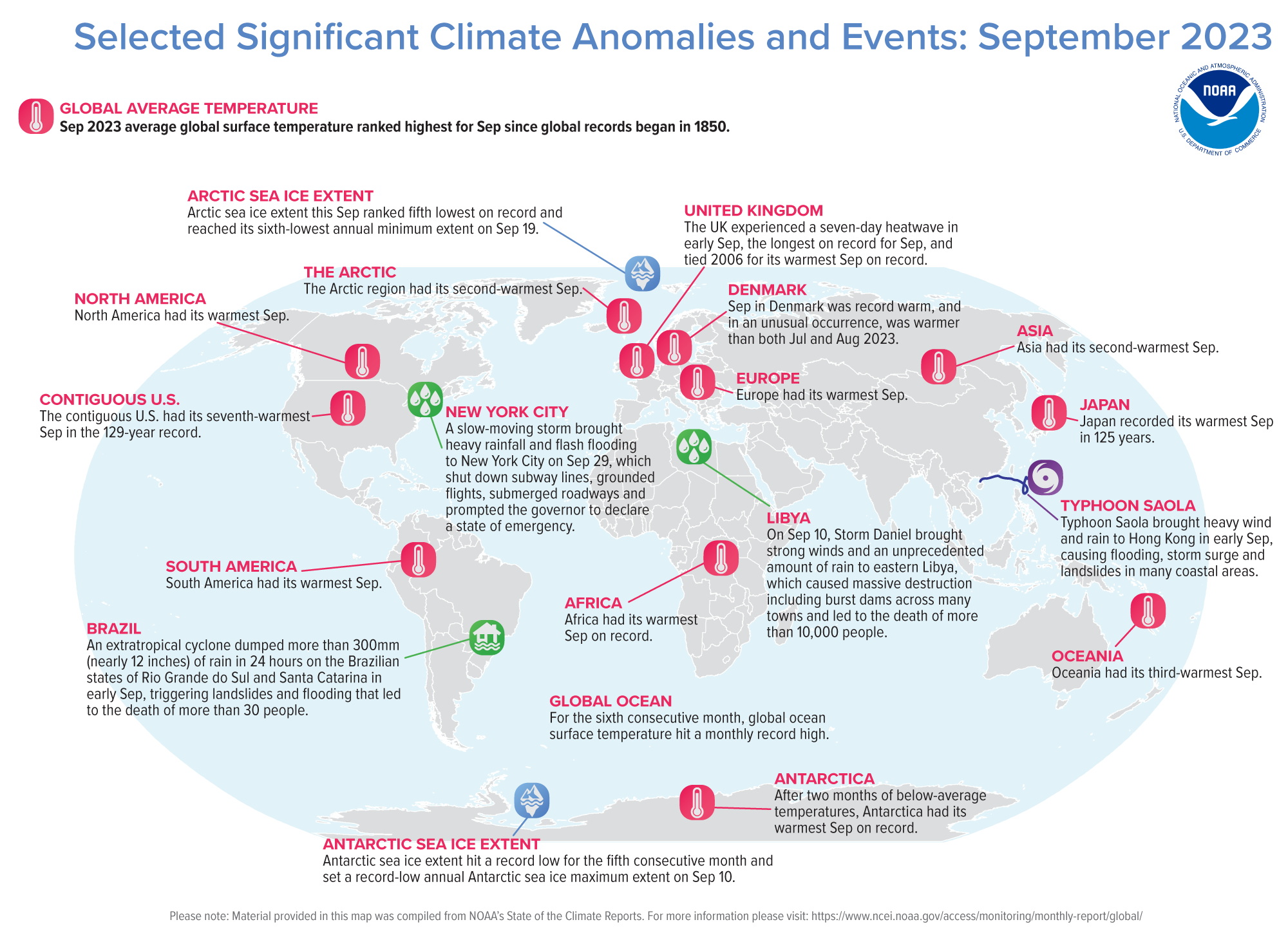 The environmental state of Italy's coastline. After the EU Marine Strategy Framework Directive was put in place across the European Union, the Italian Institute for Environmental Protection and Research (ISPRA) now conducts a series of monitoring activities every few years along the Italian coast to gather data, identify areas of intervention and tackle the most pressing environmental issues there. The findings of ISPRA's latest report on the environmental state of the Mediterranean coastline along the Italian peninsula are both positive and negative and outline specific issues that can be addressed. On a positive note, there was a significant increase in coral populations along the Italian shores. Plastic pollution also remains stable and in some cases is even declining. In excess, nitrogen and phosphorus can harm the environment by fostering algae growth but thanks to effective laws that have restricted or banned specific detergents and fertilizers, their presence has declined, too. That being said, the report found that the number of invasive species settling in the Mediterranean keeps increasing, especially around ports. Posidonia oceanica — a native seagrass also known as Neptune grass and is essential to sustaining life in the Mediterranean as it produces oxygen, fixes carbon and prevents erosion — also continues to face a worrisome decline. In nearly 90 percent of the surveyed areas, the density of Posidonia bundles is either low or average. The report also suggests following the Water Defenders Alliance guidelines regarding a planting technique showing promising results in the areas around Portofino and Bergeggi to improve the Posidonia populations (Lifegate).

An ever-lasting pollution. In the last Lapilli we featured an investigative and interactive piece by The Guardian about air pollution in Europe that revealed that regions with the highest levels tended to be the ones with the highest population density. While air pollution is a serious environmental threat, it can be reversed by simply cutting emissions. But other forms of pollution can't be eliminated so readily and are a growing cause for concern: Per- and polyfluoroalkyl substances (PFAS) are a group of manmade chemicals used in a vast number of consumer goods to make non-stick, non-stain or waterproof products (think Teflon in your pan). They're often referred to as "forever chemicals" because they take a very long time to break down and persist in the environment. "The Forever Pollution Project" — a cross-border investigative project led by Le Monde and in collaboration with 18 newsrooms across Europe — explored this more persistent form of pollution and determined that the level of PFAS contamination in Europe is more serious and pervasive than previously thought. The team recently received second place in the prestigious Kevin Carmody Awards for the breadth of the reporting. Here is a map showing where PFAS contamination was found to be most prevalent. PFAS are very mobile and, according to Le Monde, have been found in water, air, rain, otters, cod, boiled eggs and human beings, which ultimately might cause cancer and infertility among other diseases. For Italy, RADAR Magazine took part in the investigation and recently released a second chapter of their work mostly centered around the Veneto region, a hub for chemical industries. You can find RADAR Magazine's stories here.

Overcoming the pessimism trap. In this newsletter, we frequently discuss the severe impacts of climate change on the Mediterranean, including heatwaves, elevated sea temperatures, invasive species, flash floods and wildfires. While these challenges can be overwhelming, it's essential to recognize that, as humans, our brains struggle to imagine a radically different future because our concept of it is still based on the reality we are currently living and perceiving. We also know negative stories endure longer than positive ones, which makes breaking the "doomsday syndrome" extremely hard but also dangerous as it can provide an excuse to not do anything to resolve the issue as writer and journalist Fabio Deotto explains in Lucy - Sulla cultura. But the truth is there is a lot that can be done and the future is yet to come. With this in mind, this issue of Lapilli brings you a number of solution-based stories featuring adaptation and restoration projects. These stories aim to inspire hope and encourage us to envision an actionable future in which humanity doesn't simply surrender to climate change.

A mosaic forest. In France, there is a 4,200-hectare forest that scientists have been researching to understand how much heat it can absorb and how it can adapt to the effects of climate change more broadly. "We're trying to make the forest absorb a 10,000-year thermal shock in 10 years," says Albert Maillet, Director of Forests and Climate Risks at the Office National des Forêts, as Euronews Green reports. The strategy is to plant different types of trees to learn how they interact and form a more resilient biomass, including even "helping" southern species "migrate" north. The final result is a "mosaic forest" that is extremely diversified, situated in the central west region of France, which is the only country in Europe located at the confluence of four bioclimatic zones: Atlantic, continental, mountain (Alpine) and Mediterranean.

Could a different way of farming save Mar Menor? Imagine a vast lagoon along the southern coast of Spain that borders one of Europe's largest agricultural plains. It's no surprise that the agricultural fertilizers eventually seep into the lagoon. Over the decades, this has transformed the color of the water from crystal clear to a greenish soup. Excessive nutrients, namely nitrates and phosphates, have fueled algae growth, depleting oxygen and choking aquatic life. A series of measures have been introduced to tackle this issue and potentially restore the once-thriving biodiversity in Mar Menor. The primary objective is to diminish the amount of fertilizers reaching the lagoon through various methods: capturing stormwater that would otherwise carry fertilizers from agricultural areas into the lagoon, planting hedges, establishing buffer zones of wetlands between cultivated regions and the lagoon and implementing "contour farming." The "contour farming" technique involves plowing and planting following the natural edges of the land. This approach effectively slows down surface runoff, captures sediments and absorbs nutrients, especially during intense rainfall events (BBC Future).

Regenerating soil in a desertifying Spain. The Sahara is expanding into southern Spain. Climate change is exacerbating this desertification process as the average temperature of the region increased by 1 degree Celsius (1.8 Fahrenheit) between 2007 and 2015. Long periods of drought are followed by torrential rains that deplete the soil of nutrients. So a group of farmers, cattle breeders, researchers and public agencies have decided to try a new approach: Regenerative agriculture incorporates more natural farming techniques, such as terrace farming, carving out swales, using cover crops to nourish the soil and increasing the land's capacity to absorb and retain water. These techniques are proving to be more effective in preserving soil nutrients than conventional farming. This video, which is part of a written story, follows farmer Santiaga Sánchez, who explains the benefits of regenerative agriculture techniques and the role that it could play in slowing down desertification (Mongabay).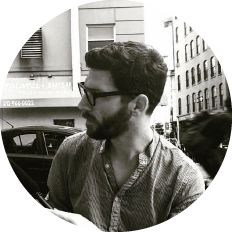 GUGLIELMO MATTIOLI
As a multimedia producer, he has contributed to innovative projects using virtual reality, photogrammetry, and live video for The New York Times. In a past life, he was an architect and an urban planner, and many of the stories he produces today are about the built environment and design. He has worked with publications such as The New York Times, The Guardian, and National Geographic. He has been living and working in New York City for almost 10 years.

That's it for this month. Thank you for reading this far. See you in December or earlier with Lapilli+.

If this newsletter was forwarded to you, you can subscribe here to continue receiving it. Lapilli is free and always will be, but in case you would like to buy us a coffee or make a small donation, you can do so here. Thank you!

Lapilli is the newsletter that collects monthly news and insights on the environment and the Mediterranean, seen in the media and selected by Magma. Here you can read Magma's manifesto.